Report from Chair Pohai Ryan
Below is a portion of the report Chair Pohai Ryan submitted to the State Central Committee on behalf of the HAWAIIAN AFFAIRS CAUCUS.
Hawaiian Affairs Caucus Successfully Honors Leimomi Khan at Aloha Reception
The HAC hosted a Aloha Reception at 801 South Street on Friday, May 24, 2022 and all Democrats were invited to attend. Donations of $20 was requested but was not rerequired. Approximately 100 people attended through out the night. Live Hawaiian Music and a menu of Leimomi's favorite chinese treats were served as well as a beer and wine bar alongside the HAC Signature beverage, Juanita's Hibiscus Lemonaide.
This event was important to recognize our Kupuna HAC member as we have in the past and to bring people together. All democratic cazndidates received invitations by phone text as well. It is the plan for the HAC tohost a second similar event after the primary election called the "Blue Party". *See attached honor resolution for Leimomi presented by the HAC. Full event report with financials forthcoming after HAC Exec. Committee approval.
HAC Proposal to Support Third voting non gender Caucus seats to SCC
The HAC would like to continue discussion and to have SCC take action to add a third non-gender seat to all Caucus representative seats on the SCC. The HAC will be adding the sitting chair as the third non gender vote.
Chairs Report on 2022 Democratic Party Convention
Summary
The 2022 DPH Convention took place from Friday, May 27-May 29, 2022 at the Ihilani Resort in Waikiki. Actual business of the party began on Saturday Morning as usual and closed at 5pm with some outstanding resolutions to be addressed by the SCC. Voting was done exclusively on line and business was done in a paperless manner.
The Meet and Greet event on Friday evening was held at poolside and appeared to be well attended and successful. This event was a hybrid delivery with the mix of remote/virtual participaton and live participation which warrants good discussion in a evaluation session of this convention.
The attendance was the lowest that I personally have witnessed in my many years attending the Convnetion and it was due to varying causes; lack of precinct participation, change of district lines confusion, concerns for the rise in COVID cases, costs, hotel capacity, etc. The Hawaiian Affairs Caucus should recommend that this discussion be full and robust as to the direction of the party and continued use of the Convention as a means to address business, formulate platform, build relationships, strengthen party unity statewide, introduce candidates, grow party membership and educate about the work and purposes of the DPH and introduction of potential and new leaders in our government, etc.
I found this convention to be too sterile, but under the circumstances of having a hybrid convention is was most sucessful of eliminating paper and keeping all records digitized. It was uncomfortable to have voting that wasn't quite transparent and for not having all exec. Cmte officers presnt on stage at all times during business. Many internet delegates were periodically dropped off line with some losing audio as well with noability to receive immediate assistance.
It is understandable that the DPH wants to move the convention into the digital age but nothing can replace in-peson participaton and this should be the goal to always host a live convention and to ecnourage high participation.
This report will further address my observations and the collection of feedback provided to me by other attendees during and after the convention.
One glaring change was the lack of security or no one to do credentials check at the doors and people freely enterend and exited the convention floor. I will ask the HAC to introduce a rule that existed for decades to allow only DPH members to attend the convention (excluding mixers and social activities, i.e.hospitality rooms, etc. The convention is for the business of the party and attendees should be a DemocraticParty member even as a guest or observer. The convention is not a circus or a pony show nor a spectatorsport. The convention is the one event that addresses the business of the party and the networking of like minded political people.
In Memorium
Richard "Dickie" Nelson III
Hawaiian Homes Commission Chair William J. Ailā, Jr. has issued a statement on the passing of Richard Nelson III, a former Hawaiian Homes Commissioner for West Hawai'i.
"I would like to extend our aloha and condolences to the 'ohana of Richard "Dickie" Nelson in their time of loss.
"His bold actions as a Commissioner and an advocate have profoundly affected the implementation of Prince Kūhiō's vision.
"In 2007, Nelson and five other native Hawaiian beneficiaries of the Hawaiian Homes Commission Act filed suit against the State of Hawai'i for failing to sufficiently fund the Department of Hawaiian Home Lands, as mandated by article XII, section 1 of the Hawaii Constitution.
"The lawsuit raised the awareness of DHHL's funding shortfalls, and beneficiaries of the Act will feel its impact for many years to come."
Eugene Theodore "Bucky" Leslie
Eugene Theodore "Bucky" Leslie came from a family of fishermen in Napoopoo, South Kona, but he followed a much different and far more colorful path, rubbing elbows with the rich and famous.
Known for his youthful good looks and a flair for fashion and style, Leslie pursued a variety of interests, from modeling for Copper-tone suntan products while in his 20s in Los Angeles to running for state office in his 70s in Kona.
Upon his return home, Leslie opened a flower shop, Flowers for Mama, and became heavily involved in Hawaiian civic clubs. He unsuccessfully ran for the state House in 2018 and the Senate in 2014.
Star Advertiser Kehaulani Watson, contributor.
Richard "Dickie" Wong
HONOLULU (HawaiiNewsNow) – Richard "Dickie" Wong, who rose from humble roots to become president of the state Senate and chairman of the powerful Bishop Estate's board of trustees, has died.
Wong died over the weekend after a lengthy illness. He was 88.
"There's nobody like Dickie Wong. There's never going to be another Dickie Wong," said former Gov. Neil Abercrombie.
"Dickie was a street kid, barefoot on hotel street shinning shoes. And he ended up as the premier leader ― the leader of the Hawaii state Senate.
Colette Machado
HONOLULU (HawaiiNewsNow) – Former Office of Hawaiian Affairs Chair and longtime trustee Colette Machado died Monday at the Queen'sMedical Center, her family announced. She was 71.
Machado served as chair of the OHA board from 2010 to 2015 and again from 2017 to 2020. She served a total of six terms(24 years) as an OHA trustee, representing Molokai and Lanai. OHA Chair Carmen Hulu Lindsey called Machado a "true mana wahine who spent her life in service tothe Native Hawaiian community."
She also served with a number of other organizations, including Malama Molokaʻi, Ka ʻOhana o Kalaupapa, and Hoʻolehua Hawaiian Civic Club of Molokai and she was active as a member on state boards and commissions.
"She is celebrated as a fearless leader and is fondly remembered for her generosity and aloha for ʻohana and the people of Molokai," her family said, in a statement.
Pono Shim
Hawaii has lost an inspirational storyteller, teacher, spiritualist and leader in economic development.
Pono Shim, longtime president and CEO of the Oahu Economic Development Board, died Friday after being diagnosed with stage 4 lung cancer last year. He was 58.
Shim led the nonprofit organization, once also known as Enterprise Honolulu, for over a decade, largely leveraging his experience as a giftedspeaker. He had no college degree but absorbed lessons from members of his well-known Native Hawaiian family and others. Pono was known for his teaching of Aloha and living in a pono way under the lessons he learned from Pilahi Paki.
New Members
Big mahalo to Lei Kihoi and Juanita Kawamoto-Brown for their efforts to recruit new members. We were able to get a total of 18 new members with twelve coming from their outreach. Here are the newmembers (yellow is new candidates, green is current legislator);
Post Script
The Democratic Party must decide on its new delegate and representative structure. With the elimination of precincts for elections we are posed with a new problem, the loss of party representatives at the lowest and closest level to community. How do we address this? How do we create a new and fair leadership structure that may or may not include districts but may become a new hybrid for our state party? Do we assignrepresentatives by county? Then by ahupuaa? Or do we assign representation by house districts and voter weight? Do we create a county representation that is as fair as possible to rural areas in contrast to densely populated urban districts of Oahu? Do we add a new layer of county wide representation for each island?This directly impacts our voice in the party as well as the attendance in all conventions and decision making.How can we as a HAC contribute to improve the now confusing and unaddressed representation of our members in our party?
The party needs to address redesigning the SCC structure and party community leadership. Delaying this is detrimental to our DPH and will not help us to prepare for the upcoming Presidential election in 2024.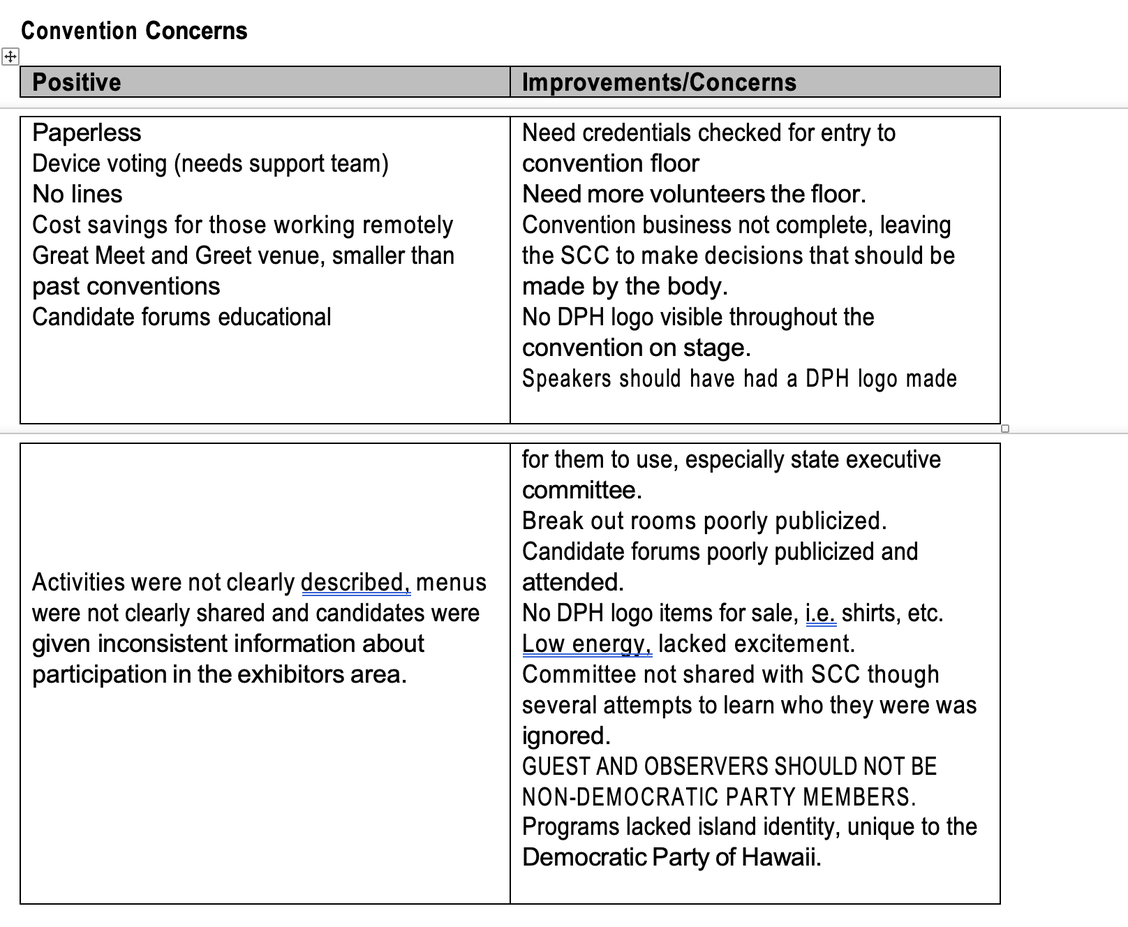 Current HAC Executive Committee:
Chair, Pohai Ryan
1st Vice Chair, Reyn Kaupiko
2nd Vice Chair, Mokihana Maldonado
Secretary, Benton Kealii Pang, PhD
Treausruer, Robert Brown
SCC Male Rep, Ken Farm
SCC Female Rep., Juanita Brown Kawamoto
Oahu Directors; Kaimo Muhlestein & Bradford Lum
Hawaii Island Director, Lei Kihoi
Maui Nui Director, Stacie Crivello
Kauai Director; Vacant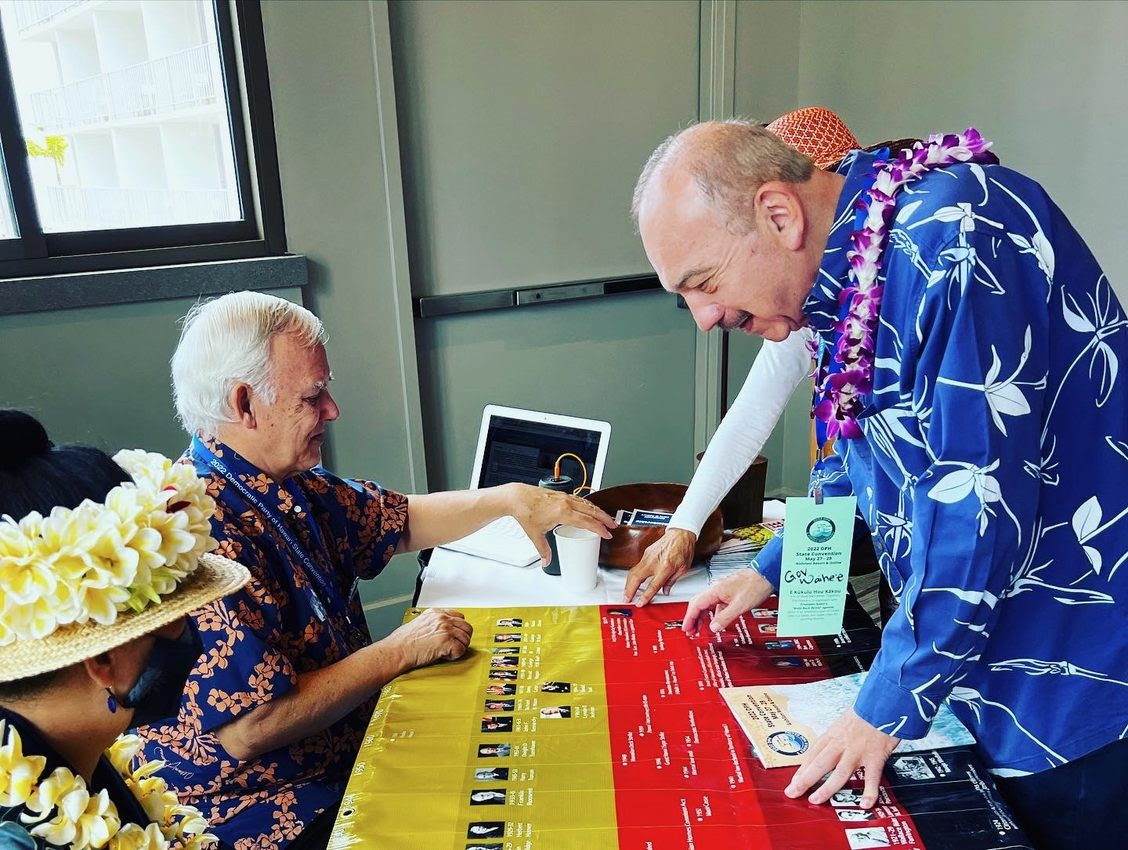 2022 OHA Trustee Forums
Wednesday, July 13th, 6:00-7:30 pm
Friday, July 15th, 6:00-7:30 pm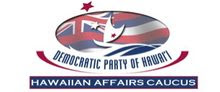 Copyright (C) 2022 Democratic Party of Hawaiʻi Hawaiian Affairs Caucus. All rights reserved.
You are receiving this email because you have expressed an interest in receiving information from the Democratic Party of Hawaiʻi Hawaiian Affairs Caucus.
Our mailing address is:
Democratic Party of Hawaiʻi Hawaiian Affairs Caucus
627 South St
Suite 105
Honolulu, HI 96813